Here is another iconic car thought I would share with you. I'm sure as most I had a poster of this car on my walls as a kid and it was a pleasure to be able to work on this car.
A bit of history on this car From 1987 to 1989 it held the title as the world's fastest street-legal production car, and during its years of production, was Ferrari's fastest, most powerful, and most expensive car. The car had no traction control, and was one of the few to utilize turbochargers. Ostensibly, the F40 was conceived as the successor to the 288 GTO and designed to compete with vehicles such as the Porsche 959 and Lamborghini Countach; for Ferrari management, the vehicle was a major statement piece.
Over a period of several years prior to the F40′s conception, the company's dominance in racing had waned significantly, and even in Formula One, an arena they had once dominated, victories had become sparse. Enzo Ferrari had recently turned 90 years old, and was keenly aware that time was not on his side. He wanted his new sports car to serve as his final statement-maker, a vehicle encompassing the best in track-developed technology and capable of being a showcase for what the Ferrari engineers were capable of creating. The company's upcoming 40th anniversary provided just the right occasion for the car to debut. As he had predicted it would be, the F40 was the last car to be commissioned by Enzo before his death.
The body was an entirely new design by Pininfarina featuring panels made of kevlar, carbon fiber, and aluminum for strength and low weight. Weight was further minimized through the use of a plastic windshield and windows and no carpets, sound system, or door handles were installed. The first 50 cars produced had sliding Lexan windows, although newer windows that could be rolled down were installed into later cars.The F40′s light weight of 1,100 kg (2,425 lb) and high power output of 478 PS (352 kW; 471 hp) at 7000 rpm gave the vehicle tremendous performance potential. Road tests have produced 0–62 mph times as low as 3.8 seconds (while the track only version came in at 3.2 seconds), with 0–99 mph in 7.6 seconds and 0–120 mph in 11 seconds giving the F40 a slight advantage in acceleration over the Porsche 959, its primary competitor at the time. The F40 was the first road legal production car to break the 200 mph barrier. From its introduction in 1987 until 1989 its only competitors were the Porsche 959 and the 1988 Lamborghini Countach (it was later overtaken by the Lamborghini Diablo), it held the record as the world's fastest production car, with a top speed of 200 mph.
On to the detail Few photos of the engine bay before the wash stages.
Engine bay was cleaned with Autosmart G101 and various brushes and/or wiped down with a microfibe
Wheels were cleaned with R222 wheel gel and various brushes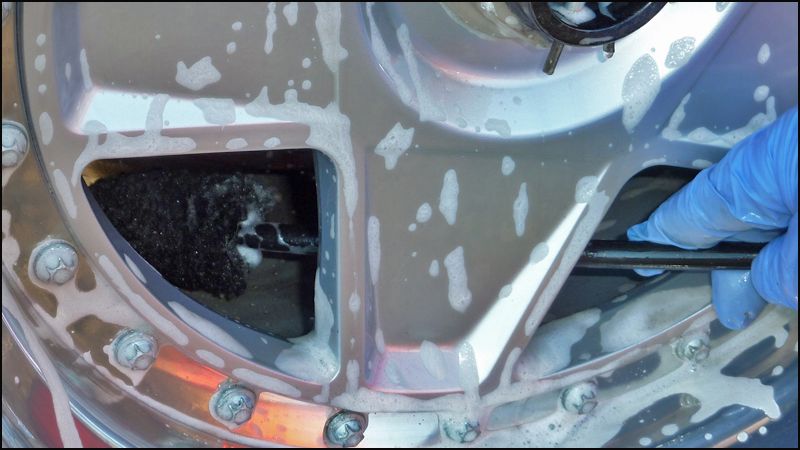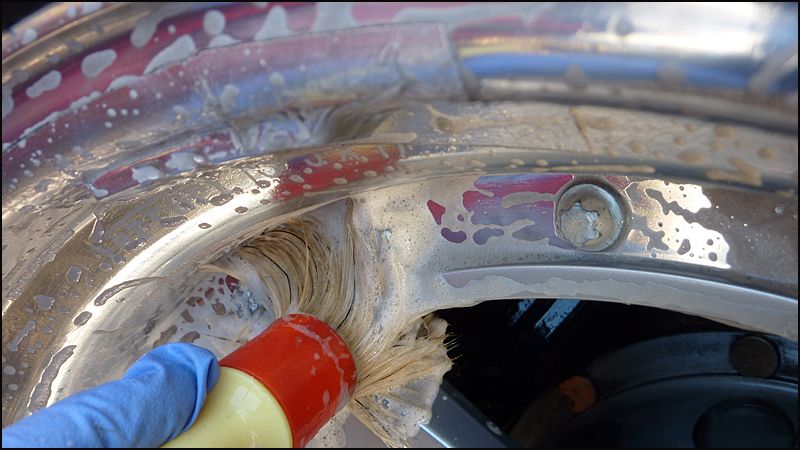 Once wheels were cleaned I then gave the car the usual wash and decontamination stages.
Few shots of the condition of the paint after the wash stages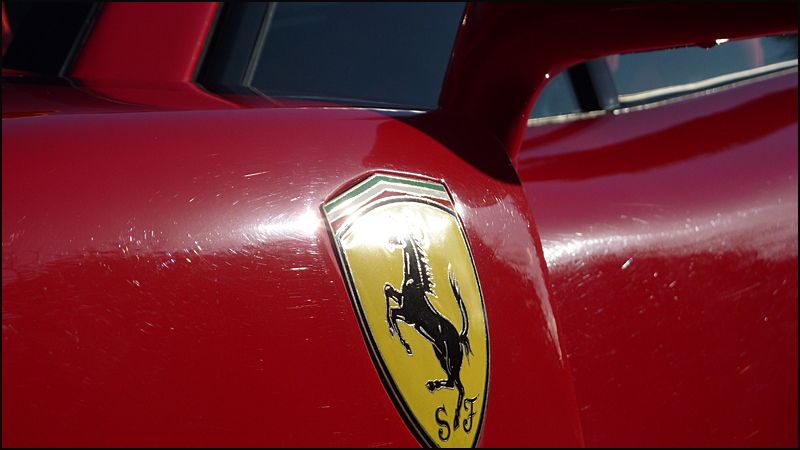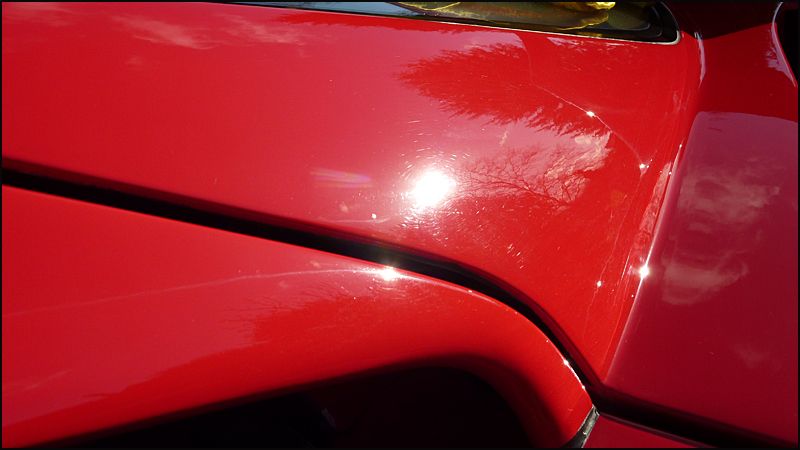 Although I used my Positector 200 to regulerly take paint readings there was alot of high and low points so had to use my better judgement and my experienced eye to ensure no damage happened and that too much paint was not removed. On some panels I was able to achieve 85-90% correction whilst in other area's it was 75-80% as some of the defects found on the car were to deep to safely remove and/or in area's that couldnt be machined heavy so had to stay behind.
Whilst there was some random scratches that probably could have been wet sanded out it wasnt worth compromising the level of paint in my opinion for that little bit of gain in correction as it may have resulted in that too much paint was removed to allow future polishing if it was ever needed. 1000′s of paint readings were taken throughout the machine polishing stages
I was expecting the paint to be a bit on the soft side but turned out to be quite hard. Most of the correction was carried out using Menz 3.02 and LC pads. There are a lot of challenging areas on the F40 to machine polish and with all the panel edges, corners and tight area's on the car a lot of the machining was done with 4 in pads and a lot of taping up was required to ensure that panel edges were safe from strike through as they are very thin. In some area's a DA was used as it was just safer to use then a rotary. Few before and after shots during the correction stages (not yet refined)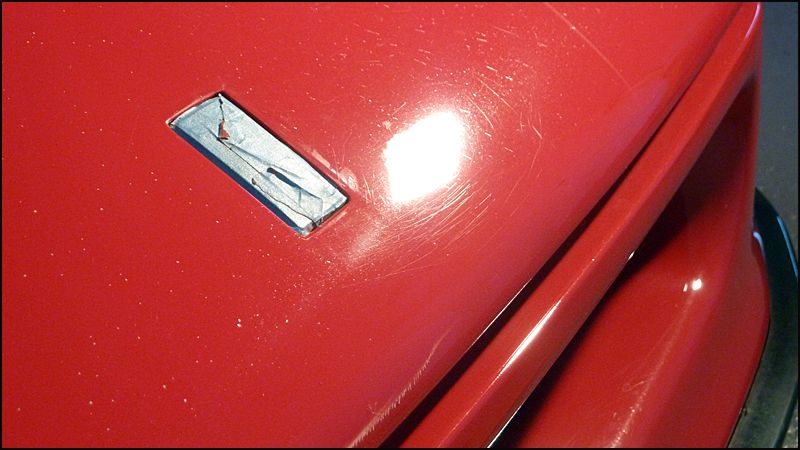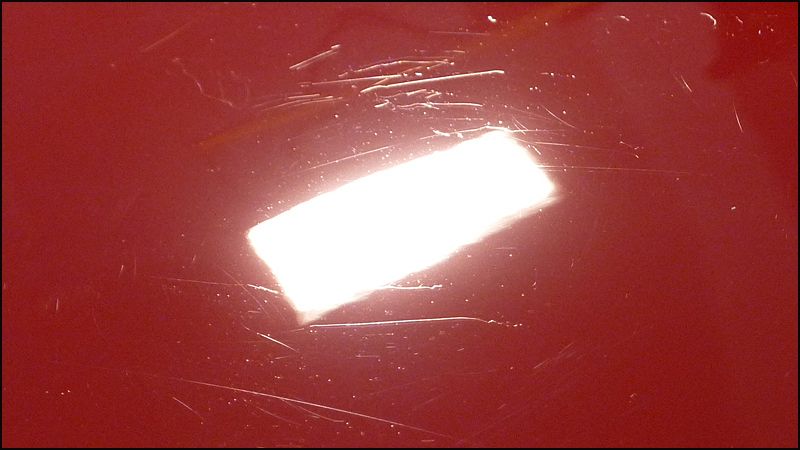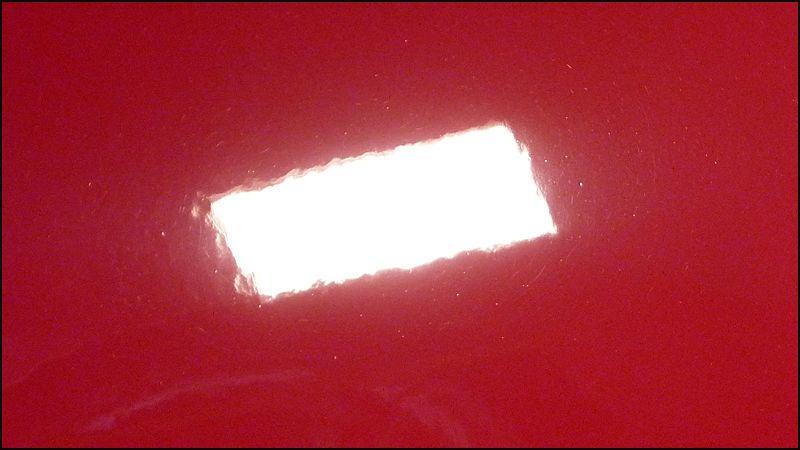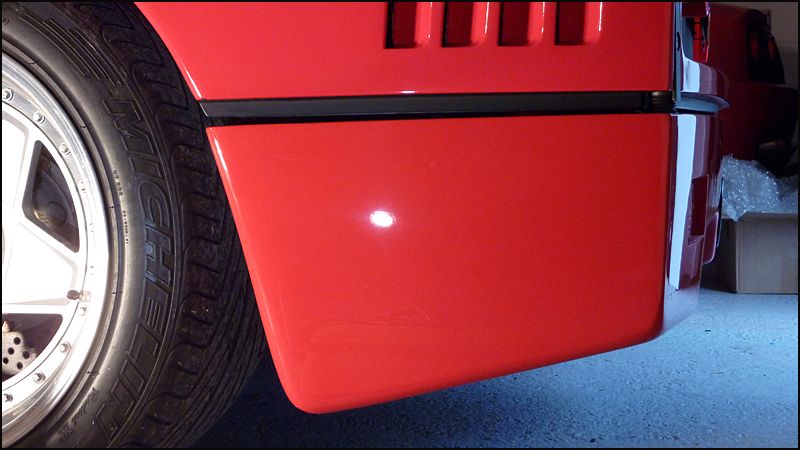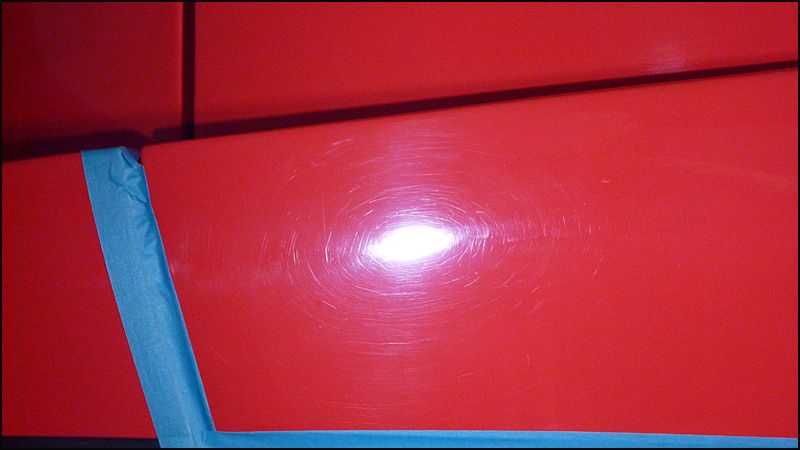 Alot of area's had to be polished by hand especially in the air ducts as too tight to machine polish.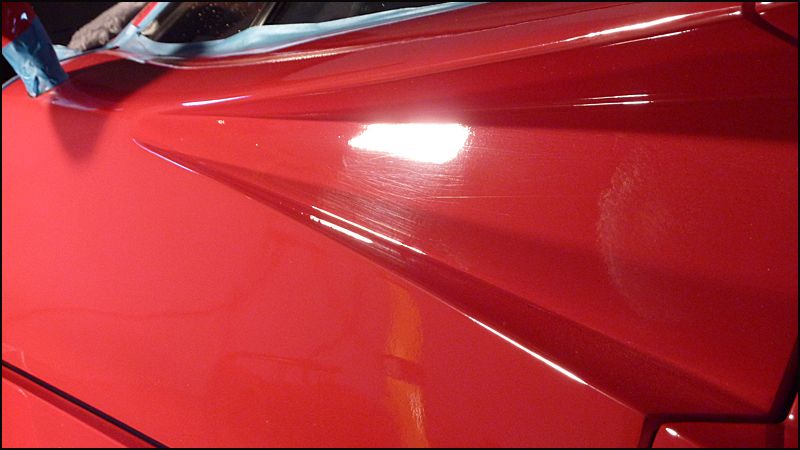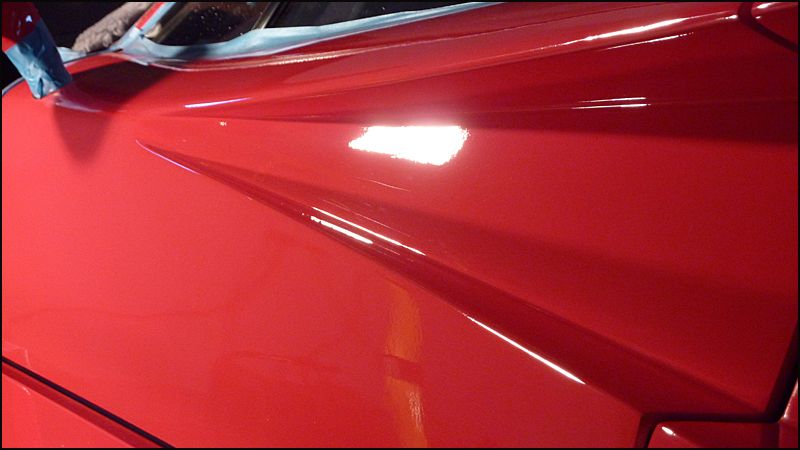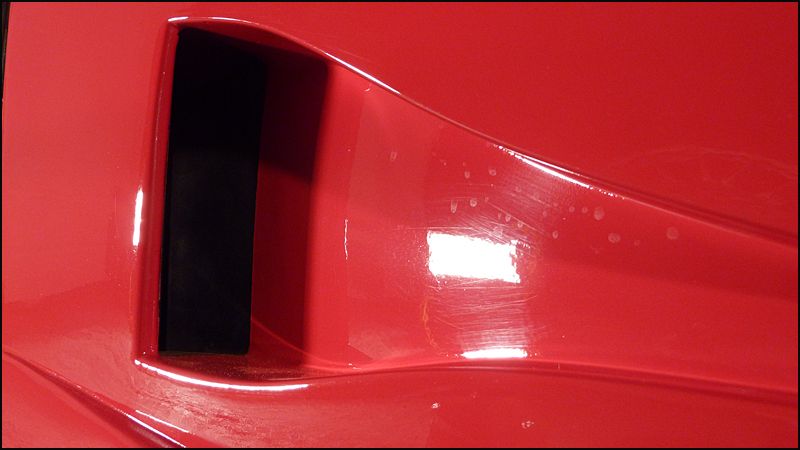 Once all the correction was complete I started work on the Lexan engine cover before starting the refinement stages. This was done with Menz 203s and a 4in polishing pad with the tight area's being cut in by hand
BEFORE
AFTER
Once I finished the engine cover I started on the refining stages and this was done with Menz 106fa Few shots after paint refined before first coat of Blackfire Wet Diamond Sealant was applied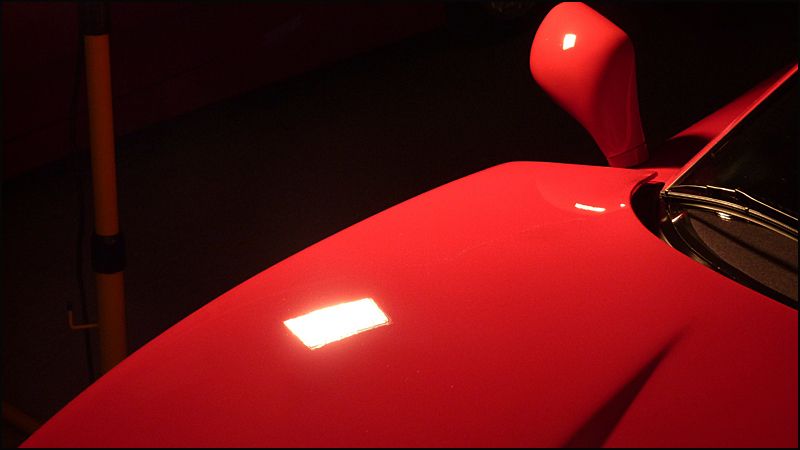 Once all of the polishing stages were done the smaller details were attended too such as the removal of polishing dust from every crack and crevice, polish residue removed from around badges, exhaust tips polished and sealed, sealing the wheels and dressing the tyres and lastly applying a coat of a Blackfire Wet Diamond Sealant to all paintwork.
All arches and exterior trim was dressed with 303 Aerospace
BEFORE
AFTER
Few days later I returned to do the interior and apply another coat of Blackfire Sealant The interior was given a good vacuum, carbon fiber polished with Werkstat Prime, seats cleaned with APC and all seals feed with Swissvax Seal Feed
End result